Are you an Agile Coach, Consultant, Facilitator or Team leader? Do you work with clients in workshops or need to present complex topics on point?

The ability to visualize became an important skill for many fields in our professional work life. Known as Graphic Recording, Sketchnoting, Visual Facilitation, Scribing or Visual thinking.
This online class serves as a first step into the exciting world of visualization – on posters, flipcharts as well as normal sized paper.
You can even use the skills digitally on your tablet or ipad!


! Disclaimer: the class is quite intense and with a lot of information. Take your time and do only one section per day. And please use the comment section!

Your benefit:
You reduce barriers in drawing and extend your communication and presentation skills
You develop your own personal style of writing and drawing
You use visualizations professionally and design your seminars, consultations and presentations more effectively and richer in variation
You are so much cooler :)
Content:

General introduction in creative visualization
Typography basics
Forms, colors and symbols
Characters and Figures
Structure and composition of convincing visualizations
Methods:

Video lessons
Drawing assignments
Work sheets
Final Project:
The final project is about being able to visualize an important process of your daily worklife - your commute :) That means your way from home to the office. This a simple graphic but contains all the topics leaned before!

You learn:
to draw simple and creative processes
to use symbols and typography
to develop a nice design
to use visuals to communicate your ideas
Here is an example from me: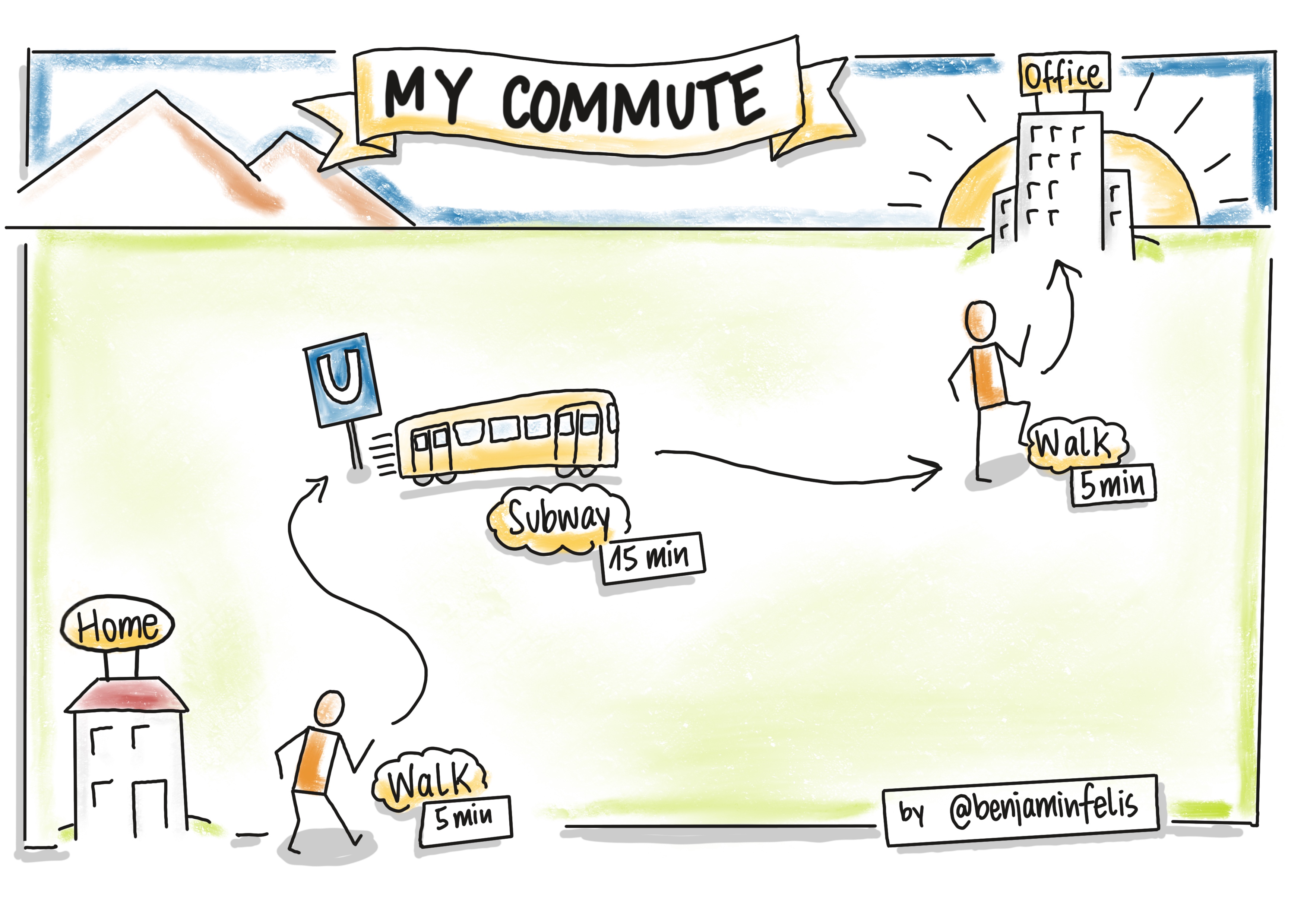 Of course you can do many other projects such as:

- Strategy plans
- Agendas
- Travel preparations
- Your "visual" CV
- Cooking Recepies
- etc.

Feel free to draw whatever you want! I'm exited about your projects!!

All participants receive a certificate of participation.
For the class, you don't need a degree in fine arts or design. With just a few colors, forms and little tricks you can astonishingly improve your presentation skills.
Visualization is fun and can be learned!

So - interested?